One more day til Friday, whoop whoop!
I thought I'd just share a few random Thursday thoughts today.
(one)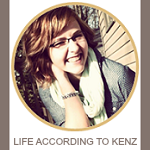 One of the sweetest girls I know in blogland, Kenz is celebrating her one year blogiversary & is having a
giveaway
& she asked me to be a part of it, and of course I said YES!
(two)
My aunt & cousins are down visiting again, we're having lots of fun of course! We're laying by the pool & then going to Cascade Bay next week. We always laugh a lot, so I enjoy having them here.
(three)
It's been hotter than all get out here, and I've been spending as much time in the water as I can. I hung out with one of my friends from school and we drank and swam in her pool. So much fun.
So this wasn't much of a post, but I just wanted to update you all on the goings on in my life :D