So I did a post like this a few months back here, but these are fun types of posts, so here goes!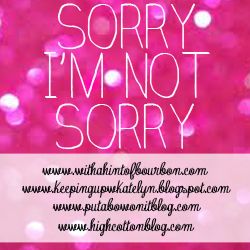 Sorry, I'm Not Sorry that.....
My blog is my outlet, this is my place to be me!
Country music is always on my phone
I love my family.
I treat my dogs like they are humans.
I sing with my headphones in.
I am a NASCAR fan.
I rock jeans and hoodies like they are going out of style.
I use sarcasm like it's going out of style
So what are you not sorry for?