How is it already December? As of today, I've been in my apartment for 7 months, I can't believe it!
I also can't believe that I'm showing up to blog on a Monday and semi-early!
Joining up with Emily from Ember Grey to share what's on my grateful heart this week.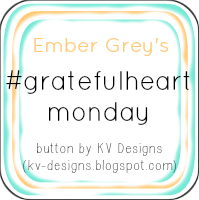 Today I'm grateful for//
My Blog//
I was reading through my 2014 & late 2013 posts and there were so many little things that I had forgotten about & I'm so grateful that I recorded them here!
WeChat//
Since Rachael is in China, she can't text regularly, so that's how we keep up with stuff not shared on the interwebz. I also love the group option, where Rach, Lora & I spew our brain matter without judgment.
My Person//
There is nothing better then having a completely weird thought & you text your best friend & she's like OH EM GEE me too. So grateful for Jayme & how we are like one person in two bodies.
Pandora//
I love love love the Pandora app on my phone. I'm constantly listening to music & it's nice I don't have to buy songs because I have music ADD.
& onto the goal section of this post.
Write each day//
Not blogging, but to work on my book. I'm not saying I have to write a certain number of words during each sitting, but I want to put some conscious effort into this dream of mine.
Blog 3x a week//
This goes along with being grateful for my blog, I won't be able to remember things if I don't put them down here!
FMS Photo a Day Challenge//
Self explanatory, I have yet to finish one of these!
Decide what my 2015 goals will be//
Blog-wise, what type of Bible study I want to be in, life-wise.