It's Thursday and that's more than Okay with me!
It's okay....
that I decided to not have any sponsors on my sidebar this month!
that I have an awesome group of guest posters for next week that I am so excited to have you guys meet!
that I am excited that I get to go watch some sprint stock car races, not to be confused with Sprint Cup racing, down in Iowa next week!
that I think tuition sucks.
that I am determined to win the giveaway that Jenn is hosting for Munchkinland Design's third birthday!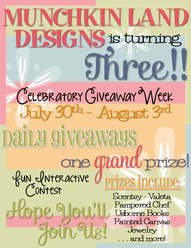 to remind you to link up for Blog Star that will be happening on Tuesday with
Mrs. Monologues
and her awesome street team!