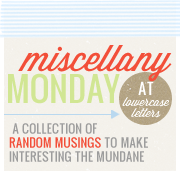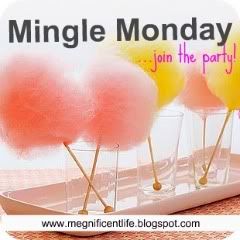 So this my first time doing miscellany monday...so I'm pretty pumped.
Miscellaneous Ramblings
-one- So I'm also doing Mingle Monday. The first blog hop/meme that I ever joined! I love it! I've met some great bloggers from this awesome Monday tradiiton! Go check it out if you haven't yet!!!
-two- My weekend was awesome. Friday I worked a short shift & then went home & stenoed for awhile. Saturday...watched The Blind Side...love that movie. Tim McGraw hello? YES PLEASE! Worked 2 to 11. I like that shift for whatever reason. My favorite CSM's work during that shift. Sunday, Sunday was probably the best day of the weekend. We went to The Crossing again. I love love love that church <3. Then I got home & headed over to my grandma's to help her throw my cousin's fiancee a bridal shower. It was SO much fun. I don't really get to see my grandma's side of the fam that much, I see my grandpa's all the time cause they are up at the cabin wiff us. Anywhosit, the groom-to-be? HOT! Like oh my goodness. His wifey-to-be is one lucky lady! Haha. I helped her out for most of the party & then Mady, Lynn & Ryan got back from Ryan's lacrosse game, they took over, so I could go home & have some "me" time before work. I gave my Grandma a hug & she's like thanks for helping...I appreciate it & you more than you will ever know, have a good night at work...cue the awww. I'm so glad her & my grandpa are home for the summer. I'm still waiting for my grandpa to take me to Daddy O's and/or DQ for the first time this spring. lol. I love my grandparents. Speaking of which, my Grandpa,Lynn,Dad & Ryan picked me up from work Saturday night, and somehow we got on the topic of alcohol sales & how we card anybody looking under 40 to sell. Lynn asked me so do you card just about anybody, and I say yes unless I can tell they are like 80. My grandpa says so would you card me....I say NOPE! *Foot meet mouth* My Grandpa is 66 and doesn't look a day over 55, & sure doesn't act his age . We all laughed about it the rest of the way home. Glad I could be a comic relief guys :D
-three- I am so glad that I only have two weeks left before a two week break from school!
-four- Speaking of school, we had an extra long break in my class today, and while we were waiting for my teacher to get back we laughed so hard. I love the girls in my class!
-five- I totally didn't study for the test I have in my next class...so glad this is the second to last class with this instructor. He has NO teaching skills at all!
-six- thanks for visiting!