I absolutely love music, and truly believe there are is a song for every part of life, so I narrowed it down to ten songs that truly mean something to me now or meant something to me in some part of my life.
I'm mixing it up with Ten On Tuesday & Show & Tell! I love both Karli &
Andrea's
link-ups so it's a win-win this week!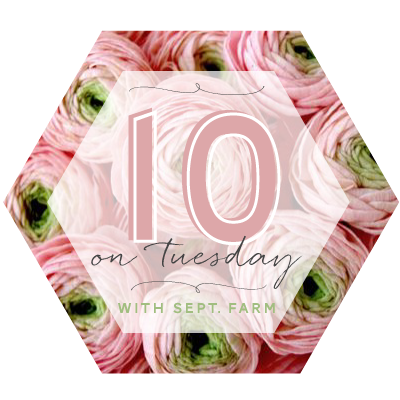 1-What Faith Can Do-Kutless
This song was my anthem during the late part of my junior year and all of my senior year, I was ready to move on from the town I went to high school in to the place I consider my hometown.
Favorite line from the song--You've got to face the clouds to get the silver lining
Other songs that were crucial to me in that second part of my high school career: Welcome to My Life by Simple Plan and Mighty to Save by Hillsong United. I definitely have a varied taste in music.
2-Not Ready to Make Nice-Dixie Chicks
I blasted this song after our cabins were destroyed by arsonists during my sophomore year in high school. I consider it my big screw you song.
Favorite line from the song-& how in the world, can the words that I said send somebody so over the edge that they'd send me a letter saying that I better shut and up sing or my life would be over.
Other songs I sing when I'm fed up: So What by P!NK & I Just Want to Be Mad by Terri Clark.
3-Remind Me-Carrie Underwood & Brad Paisley
This song reminds me of days spent driving around with Mady when she first got her license and car.
Favorite line of the song-We were kissing goodbye and we couldn't stop, I felt bad 'cause you missed your flight but that meant we had one more night.
Other songs that remind me of those times-Play it Again by Luke Bryan & Cruise by Florida Georgia Line.
4-The Thunder Rolls (Live version)-Garth Brooks
This song reminds me of getting to see one of my top two bucket list artists in concert with some of my favorites.
Favorite line of the song-She runs down the hallway through the bedroom door she reaches for the pistol kept in the dresser door, tells the lady in the mirror he won't do this again, 'cause tonight will be the last night she'll wonder where he's been.
Other songs that I loved in concert from my top two bucket list artists:
I Can Still Make Cheyenne by George Strait, Jackson by George Strait and Martina McBride & She's In Love with the Boy by Trisha Yearwood.
5-Drunk on a Plane
This song represents songs sung in concert that I've gone to with any of my best friends.
Favorite line of the song-Told the flight attendant about my condition, she gave me some mile high attention.
Other songs that I would include in this category: Bottoms Up by Brantley Gilbert, Friends in Low Places by Garth Brooks & Kerosene by Miranda Lambert.
6-Because You Loved Me-Celine Dion
I love love and I love love songs.
Favorite line of the song-You said no star was out of reach, you stood by me and I stood tall.
Other songs that represent my love for love songs: It's Your Love by Tim McGraw & Faith Hill. Play me that song by Brantley Gilbert & I Cross my Heart by George Strait.
7-The Call-Matt Kennon
This song would represent songs that inspire me.
Favorite line of the song: If someone you know is weighing on your mind and might need a friend on the other end of that line, don't hesitate what might seem so small, who knows they might be glad you called.
Other songs that inspire me include: Fingerprints of God by Steven Curtis Chapman and Don't Laugh at Me by Mark Wills.
8-Where I'm From-Jason Michael Carroll
This song represents to me my love of my small town life & hometown.
Favorite line of the song-Where the football player dates the homecoming queen, the truck's a ford and the tractor's green.
Other songs that remind me of how I feel about my hometown: Where I Come From-Montgomery Gentry & The House That Built Me by Miranda Lambert.
9-We Believe-Newsboys
This song represents my love of worship/Christian music
Favorite line of the song:We believe in God the Father, We believe in Jesus Christ.
Other songs to show my love of worship music: Blessed be your name by Matt Redman & Who I Am by Casting Crowns
10-That's Why God Made Me-Daryle Singletary
This song represents my favorite songs.
Favorite line of the song-God made your mother, so you'd always have a friend, your sister and brother to fight with now and then, God made your father to teach you how a man should be & He knew you'd need someone to always love you & that's why God made me.
Other favorite songs are the aforementioned What Faith Can Do & Austin by Blake Shelton.